Yeast handling is the core of a brewery. For ideal yeast propagation – and thus for a good beer – hygienic plant design is essential. Yeast quality is defined particularly by the preservation of yeast viability and by optimized yeast vitality. ABW PRODEB offers everything for comprehensive yeast management.
YEAST PITCHING
The intelligent combination of a frequency-controlled pump and a controlled overflow valve allows the compensation of variations in yeast consistency and wort flow rate The method ABW PRODEB developed to determine the yeast cell count through differential turbidity measurement ensures accurate yeast pitching. Variations in the basic turbidity of the wort are compensated for. A static mixer developed especially for this application provides proper mixing of the yeast into the wort. As an alternative to differential turbidity measurement, the yeast volume can also be determined by a viable cell count.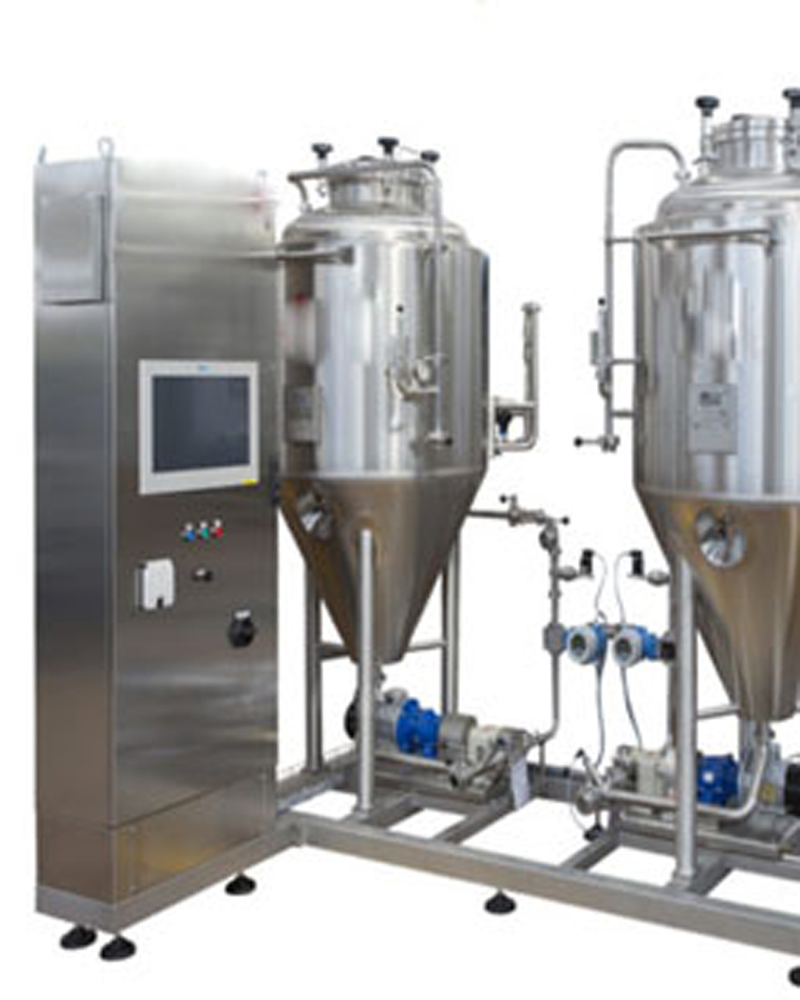 Yeast quality - our conclusion
Design :
Function-tested units preassembled on a compact base frame
Use of PRO-MIX® components for highest hygienic standard and best CIP ability
Individual units can be upgraded from the simplest to the most powerful version welding and cutting work
Capacity adjustment by exchanging parts with detachable connections within the range of nominal widths DN 50 - DN 125.
Technical data :
Integration of a serial interface for linking the line to a master control system Separation of wort and yeast pipe by PROMIX ® mixproof or normal shut-off valves
Differential turbidity measurement, based on the correlation between turbidity and yeast cell count.
Control of the added viable cell count by measuring the electrical properties of intact cell membranes.
Sizes (wort pipe): DN 50 to DN 150 (6").
Wort flow velocity: 1.0 - 2.5 m/s.
Wort pressure: yeast pitching unit max. 6.0 bar
Pressure drop in the wort pipe: yeast pitching unit < 0.5 bar
Yeast pitching range: 5 - 50 million yeast cells / ml wort
Nominal width of yeast pipe: DN 40 to DN 80
Supply pressure of the pitching yeast: > 0.5 bar above the CO² saturation pressure > 0.5 bar under the wort pressure at the dosin
Product flow rate: up to 1900 hl / h.

YEAST MANAGEMENT

Yeast management is the core of a brewery. For ideal yeast propagation – and thus for a good beer – hygienic plant design is essential. Yeast quality is defined particularly by the preservation of yeast viability and by optimized yeast vitality. ABW PRODEB offers everything for comprehensive yeast management.

Features of YEAST-PRO™ :

Vigorous, actively fermenting yeast
Less equipment required
Optimal aeration rates
Gentle circulation loop.
Sterile air station with candle filter and product trap
Optional: In-line alcohol measurement, automatic determination of yeast cell count, etc.

Your benefits at a glance :

Maximum microbiological process safety because the EHEDG guidelines are followed
High constant beer quality due to especially vigorous and viable yeast cells
Essential nutrients are preserved as additional wort treatment is avoided
Little foam formation and homogeneous mixing
Highest possible flexibility in the process
Optimized concept in terms of space requirements and costs
The high productivity of a brewery is significantly influenced by fermentation and it is based on efficient yeast management.

YEAST FLASK
YEAST PROPAGATION
YEAST STORAGE TANK
YEAST PITCHING PUMP, STERILE AIR FILTRATION SYSTEM

Key Features :

Stainless steel vessels (1 to 3, depending on the batch size) that are equipped with heating and cooling jacket, steam sterilization capability, closed system to prevent infection.
Tank Top Plate having safety fittings includes the vacuum relief valve, pressure relief valve, bunging device and sample valves for yeast vessels.
Electromagnetic flow meter cum Totaliser based Yeast pitching system
Automated temperature control.
Automated yeast pitching system from yeast storage vessels
>